Certified Agriculture Dealer of Dodge Chrysler Jeep Ram of Winter Haven in Winter Haven, FL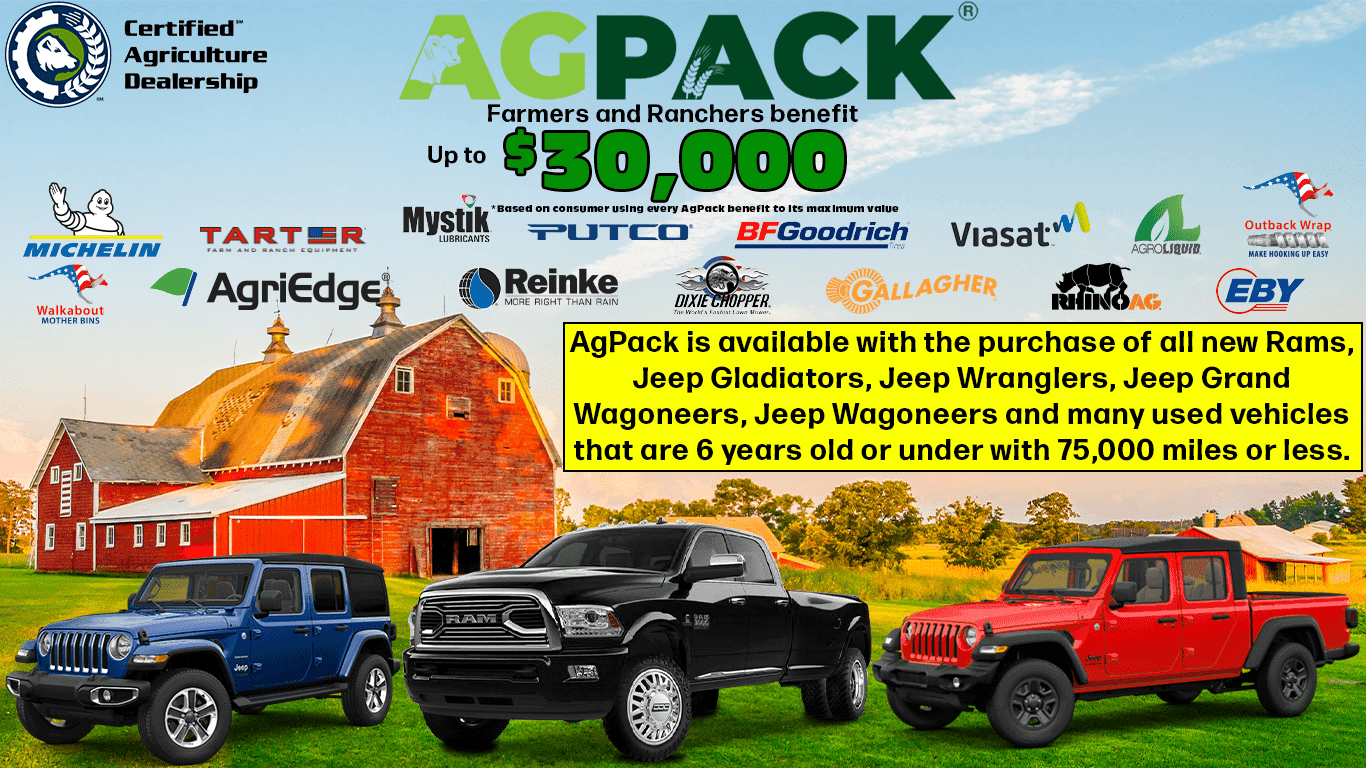 Dodge of Winter Haven is proud to be a Certified Agriculture Dealership in the Polk county area!
Dodge Chrysler Jeep RAM of Winter Haven has an enthusiast, certified Sales & Service Team, trained to meet the commercial vehicle needs of our local farming and ranching communities. Whether that is a Jeep Wrangler or Jeep Gladiator, Ram 1500, a Ram Heavy Duty, a Ram 3500, 4500 or 5500 Cab Chassis, or a Ram ProMaster Van, we know trucks and we mean business! We have the greatest selection of upfits for any commercial need and at the best price. Give us a call – we are here to service you!
Winter Haven Dodge recognizes that the agricultural industry is not a 9 to 5 job. Not only are we a Certified Agriculture Dealer we also provide BusinessLink, a no-cost program designed to save you time & money, keeping you on the road (and in your fields!) BusinessLink benefits include: Available Local Shuttle Service, Next Bay Service, Courtesy Vehicles, Financing Expertise, Upfitter Connections, and 24 Hour Towing Assistance.
As an established Certified Agriculture Dealership, we can offer you exclusive benefits with our AgPack. The AgPack is a powerful package of farm and ranch management tools worth $1,000's. We are one of very few dealerships offering ag-friendly financing from one of the nation's largest agricultural lenders. AgPack is FREE & available on all new Ram's, Jeep Gladiators, Jeep Wrangles, Jeep Grand Wagoneers, Jeep Wagoneers, Dodge Durangos and many used vehicles that are less than 6 years old or have less than 75,000.
List of qualifying vehicles
AgPack Contents:
Exclusive rebates on Michelin & BFGoodrich Tires – from tractors to trucks to toys, over $4,500 rebate value available
25% off MSRP on Rhino Ag products PLUS a gift card valued between $100-$200
Exclusive 5-10% below MAP pricing (lowest price a dealer can advertise), direct from Dixie Chopper on their entire line of commercial mowers
$150 prepaid gift card from Viasat with a 2-year satellite internet subscription
1-year free subscription to AgriEdge, valued at $5,000
$2,000 toward he purchase of crop nutrition* from AgroLiquid, PLUS free soil test and one-year consultation with AgroLiquid agronomist
$1,000 toward a new Reinke irrigation system and $500 toward parts on an existing Reinke system
25% off MSRP on all Gallagher fencing, weighing, and EID products purchased through gallagherusa.com (excludes water automation systems)
15% off purchases of Tarter Farm & Ranch Equipment totaling over $3,500 MSRP before discount, valid only by contacting a Certified Ag Pack tarter Representative by [email protected] (excludes 3 Point Equipment)
Exclusive after purchase rebates up to $350 on Eby Truck Bodies & Upfits
Exclusive after purchase rebates up to $1,000 on Eby Stock, Equipment, & Grain trailers
$500 product credit for future purchases of Mystik Lubricants after an initial $2000 purchase milestone is met; complimentary, lifetime oil condition monitoring on the purchased vehicle. and Mystik-branded gifts upon acceptance of offer
$1,500 rebate on the purchase of a Walkabout Mother Bins plus a 20% rebate on accessories like a scale, vibrator, display, low unload option, or an auger sock, plus a $500 gift card/store credit for Outback Wrap Hydraulic hose products (Available on qualifying truck purchases after 1/1/2022)
20% storewide discount from Outback Wrap for their hydraulic hose identification and management products (Available on qualifying truck purchases after 1/1/2022)
10% off Manufacturer's Suggested Retail Pricing for the entire line-up of PUTCO products plus free shipping (Available on qualifying truck purchases after 1/1/2022)
Stack all of these benefits on top of any manufacturer incentives. (FCA, Business Link, CNH, etc.)
To view all Terms & Conditions, click here.
Simply verify your ownership of, or in, an agricultural enterprise with us and you will receive great benefits!
"Appreciation for the needs of the agricultural community has deep roots within our dealership and the Ram brand. The Ram CAD program was built with input from educational experts, agriculture experts, and family farmers & ranchers. Dodge Chrysler Jeep RAM of Winter Haven can now offer the industry something more – a partnership that understands and adjusts to those needs at every level."
"The share of U.S. farms operated by women nearly tripled over the past three decades.
Using Census of Agriculture data from 1978 through 2007, this report provides detailed information about women farmers and the types of farms they operate."
Economic Information Bulletin No. (EIB-111). USDA. Economic Research Service.
Let us all celebrate National Ag Day Tuesday, March 22, 2022
National Ag Day is organized by the Agriculture Council of America. ACA is a nonprofit organization composed of leaders in the agricultural, food and fiber community, dedicating its efforts to increasing the public's awareness of agriculture's role in modern society.
The National Ag Day program encourages every American to:
Understand how food and fiber products are produced.
Appreciate the role agriculture plays in providing safe, abundant and affordable products.
Value the essential role of agriculture in maintaining a strong economy.
Acknowledge and consider career opportunities in the agriculture, food and fiber industry.

Ram Trucks is the Official Truck of the National Cattlemen's Beef Association! All members can receive 1% below factory invoice price on nearly all new Chrysler vehicles and are entitled to two discounts per year. For more information, click here.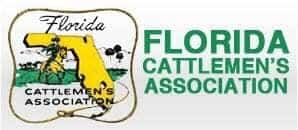 Help us celebrate National Future Farmers of America Week, February 20-27, 2021!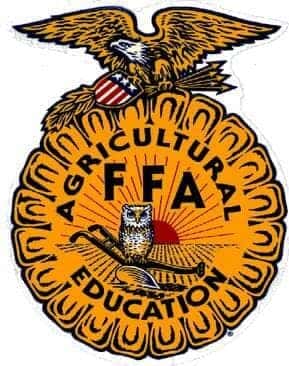 In 1948 the first FFA Week was celebrated during George Washington's birthday to recognize his pioneering contributions to American agriculture.
The National FFA Organization is an American youth organization, specifically a career and technical student organization, based on middle and high school classes that promote and support agricultural education. Founded: 1928
National Ag Day FAQ's
What Is Ag Day?
It's a day to recognize and celebrate the abundance provided by agriculture. Every year, producers, agricultural associations, corporations, universities, government agencies and countless others across America join together to recognize the contributions of agriculture.
Who Hosts Ag Day?
The Agriculture Council of America hosts the campaign on a national level. However, the awareness efforts in communities across America are as influential – if not more – than the broad-scale effort. Again this year, the Ag Day Planning Guide has been created to help communities and organizations more effectively host Ag Day events.
What Is Ag Day All About?
Ag Day is about recognizing – and celebrating – the contribution of agriculture in our everyday lives. The National Ag Day program encourages every American to:
Understand how food and fiber products are produced.
Value the essential role of agriculture in maintaining a strong economy.
Appreciate the role agriculture plays in providing safe, abundant and affordable products.
Why Celebrate Agriculture?
Agriculture provides almost everything we eat, use and wear on a daily basis. But too few people truly understand this contribution. This is particularly the case in our schools, where students may only be exposed to agriculture if they enroll in related vocational training.
By building awareness, the Agriculture Council of America is encouraging young people to consider career opportunities in agriculture.
Each American farmer feeds more than 144 people … a dramatic increase from 25 people in the 1960s. Quite simply, American agriculture is doing more – and doing it better. As the world population soars, there is an even greater demand for the food and fiber produced in the United States.
What Can I Do to Help?
Put simply, get involved! Your participation in Ag Day is critical in helping us spread this positive message about agriculture. If you are interested in planning an event, download your Planning Guide today. Of course, there are other ways you can lend your support, including sending a letter to your local newspaper, calling your Congressional representatives or simply sharing information about agriculture with youngsters in your community.
Where Can I Find More Information?
Contact the Agriculture Council of America at (913) 491-1895 or visit www.agday.org